What is UltraShape Power?
UltraShape Power is the first and only Health Canada-cleared, non-invasive body-shaping procedure that uses focused, pulsed ultrasound for selective fat-cell destruction. It is unlike any other body-sculpting technology available.
Unlike liposuction, UltraShape Power is non-surgical- which means no incisions, anesthetics or recovery time. And unlike other fat-reduction procedures, UltraShape Power is painless for most people and leaves no visible signs of treatment. So you can receive a treatment, then hit your yoga class the very same day.
All you're left with are smooth, contoured results, often seen as quickly as 2 weeks after the first treatment while end result is 12 weeks post treatments.
UltraShape Power eliminates fat cells permanently. It differs from weight loss, which can only shrink fat cells.
What UltraShape Power won't do is cause you pain or harm surrounding tissue, nerves, or muscle because it is virtually painless; in clinical studies, the mechanical versus thermal mechanism resulted in patients rating pain as 0.7 on a scale of 0 to 10.
The result is 32% fat layer thickness reduction in the treated area; which is the highest reduction of any non-invasive device on the market.
UltraShape destroys the fat that, despite your best efforts, is resistant to diet and exercise. It is the first and only FDA-cleared, non-invasive body-shaping procedure to use focused, pulsed ultrasound energy to selectively destroy fat cells.
Unlike liposuction, UltraShape is nonsurgical, so no incisions, no anesthetics and no recovery time.
And unlike other fat-reduction procedures that use heat or freeze fat, UltraShape is virtually painless and leaves no unwanted signs of treatment. That means you can hit go from the spa side straight to yoga class - crop top and all.
Instead of unwanted side effects, all you're left with are smooth results, sometimes seen as quickly as just two weeks after the first treatment.
How it works:
UltraShape's gentle ultrasound energy destroys the walls of fat cells in your body and releases that fat in the form of triglycerides. Those triglycerides are then processed through the liver and eliminated from the body naturally. Meanwhile, the surrounding tissue, nerves and muscles are left completely unharmed.
There are two major types of fat in your body: visceral (fat that forms around your organs) and subcutaneous (fat that forms under the surface of your skin).
While eating right and working out can help reduce visceral fat, subcutaneous fat can be difficult to lose. UltraShape targets and eliminates stubborn (subcutaneous) belly fat that's resistant to diet and exercise.
Who is a candidate for UltraShape Power body contouring?
UltraShape Power body-contouring system is designed to help average to overweight women and men improve body shape and contour. It is ideal for those who want a non-surgical treatment option for fat reduction.
What areas of the body can be treated?
The UltraShape Power is clinically proven to improve the abdomen, thighs ("saddle bags"), and flanks ("love handles"). The device can also treat the arms and back.
How many treatments are needed?
Clinical results show patients see an average of a 4cm reductionin circumference after three treatments. A three treatment protocol is recommended for most patients, but can vary depending on a variety of factors. A specific treatment outline will be determined during the consultation at Bliss. It is recommended to follow the treatment plan outlined to ensure optional results for fat removal, body contouring, and skin tightening. Bliss clients who have committed to having all of their treatments, spaced out over the time advised, have experienced impressive results and are very happy.
How long does it take to see the results and how long will it last?
After the UltraShape Power procedure, the broken-down fat cells are naturally cleared by the body over a 2-4 week period. Circumference and fat reduction is usually seen within the first 14 –28 days post treatment. Maximum results are seen about 28 days post the final treatment (three treatments usually recommended). See before and after pictures here. Just like liposuction, fat cells removed from the body is permanent, however remaining fat cells in the treated area can expand with weight gain. It is important to maintain your weight through a healthy diet and exercise. Contact us today to learn more!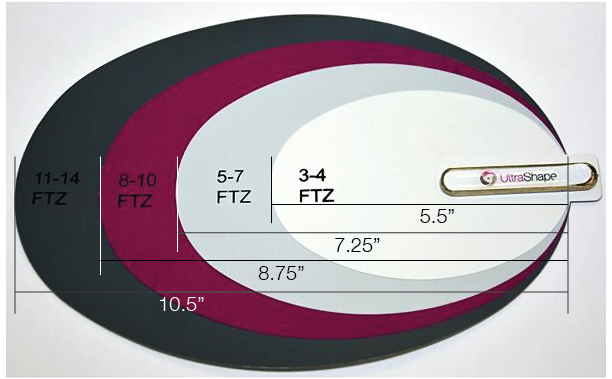 What is an FTZ?
UltraShape uses Focal Treatment "Zones". (They are referred to as FTZs) to determine the number of pulses. Each focal treatment zones equals up to 100 pulses. The machine automatically calculates the pulses needed. Please refer to the graphic for a rough estimate on how many FTZ's you may need.
---
Prices do not include GST and are subject to change. Effective March 28, 2018
Cancellation Policy:
Cancellations must be completed within 24 hours of your scheduled appointment time. Failure to cancel your appointment or cancellation within 24 hours of your service will result in a $50 charge or you will forfeit your deposit if one was collected at the time of booking.
Bliss MediSpa has been awarded Gold Partnerstatus by Candela, the makers of UltraShape Power, for the large number of UltraShape Power procedures performed at our practice.UltraShapePower is a powerful, effective, and completely painless fat destruction and body contouring treatment with a high efficacy rate.UltraShape Power utilizes a pulsed delivery of focused ultrasound energy to cause rapid fat tissue destruction, resulting in noticeable circumference reduction and long-lasting improvement. The only fully customizable fat elimination treatment that can be adjusted to individual body areas.
Ready to see what UltraShape can do for you?
It's more affordable than you think with treatments starting at $800 (a series of three treatments is recommended for best results). A free consultation is required so book yours today.