Bliss MediSpa's mission is to provide the best spa and yoga experience by offering the highest-quality products and services from a remarkably attentive staff. We will support the health and wellness of our clientele and our team members in an environment that encompasses well-being, responsiveness, and respect.
Through our premier facility, we will transport you to a place that hasn't existed in Edmonton before—one that provides a unique sense of peace, harmony, and well-being. Our 8,000-square-foot facility is designed to flow from our blissful yoga studio to our fourteen treatment rooms, which include two couples massage room and three laser rooms, as well as our IV therapy "pods".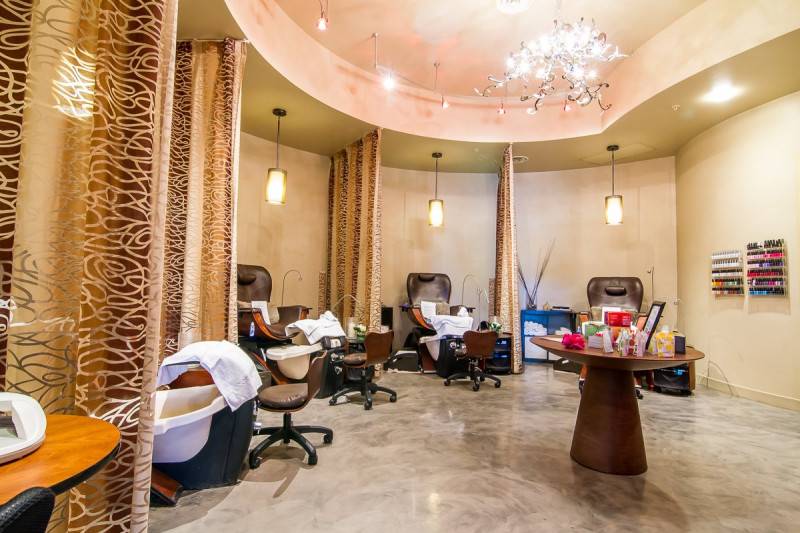 Rejuvenate your soul and invigorate your senses in any of these rooms or relax in our manicure-pedicure room, which features vibrating massage chairs that envelope you in soothing warmth. Refresh yourself with a visit to our stocked lounges and locker rooms, which offer amenities for both yoga and spa patrons, as well as a complete retail offering.
We have a state-of-the-art yoga studio heated with far-infrared heating panels. The studio is equipped with low-VOC cushioned floors, American clay walls, and a moving art-piece that helps you transcend to inner peace.
You've experienced our luxury retreat in spa and yoga, but did you know we also have a Medical Spa specialty at Bliss? We are excited to offer laser skin rejuvenation, hair removal and fat loss using today's most recent technology.
Our Gentle Max Pro laser is the gold standard in hair removal, but also offers two different lasers in one, allowing us to do photo rejuvenation, sun spots, spider veins and skin tightening. Our Elos Plus laser focuses on skin rejuvenation, active acne and skin tightening! Our two other lasers are for body contouring: VelaShape III provides circumferential differentiation and cellulite reduction with UltraShape Power will rid up to 32% of your fat cells in those stubborn areas. All medi-spa services are performed with highly trained technicians, in our luxury facility. We are also excited to offer Cosmetic Injectables including filler and neuromodulators including Botox and Dysport - watch for PRP coming soon.
Bliss MediSpa caters to the needs of the most discerning health and wellness clientele. We provide the best spa and yoga experience in Western Canada by offering the highest quality products and services from remarkably attentive staff.
Belief
We truly believe that we can provide an amazing customer experience while having fun.
Teamwork
We believe we can achieve more together than alone. We strive to understand the needs of others and foster fairness, integrity, and mutual trust in all our interactions with our employees, business partners, and clients.
Responsibility
We are truly committed to each other, our business, and our clients. We take ownership of the present moment and respond selflessly with care and thought.
Balance
We believe that the balance of body and mind are just as much a personal practice as it is a business practice. Being mindful and present helps us to be balanced.
Excellence
When we surpass the highest expectations, when we perform the smallest tasks to our greatest ability, when our clients are so blown away that they can't mask their delight, we know we've achieved excellence.
Passion
That inner feeling that you want more; striving to be better; believing in what we do.
We are pleased to inform you of the new and exciting additions to our wellness center. We have recently expanded our services to include a medical spa, day spa, and yoga studio. Our goal is to provide you with a holistic approach to wellness, in which all aspects of your health and well-being are taken into consideration.
The medical spa offers a variety of treatments such as Botox, Dysport, fillers, laser hair removal, and laser skin rejuvenation to enhance your natural beauty and boost your self-confidence. Our team of expert medical professionals will work with you to develop a customized treatment plan that suits your needs and goals.
The day spa is the perfect place to relax and rejuvenate. Our services include massages, facials, manicures, pedicures, and body treatments. These treatments will leave you feeling refreshed and pampered, and help to reduce stress and tension.
Our wellness services include nutritional counseling, life coaching, reiki and yoga therapy. These services are designed to help you achieve balance and harmony in your life, and improve your overall well-being.
Finally, we have a fully-equipped yoga studio, where you can participate in a variety of classes, including beginner, intermediate, and advanced classes with a focus on restorative yoga and stress relief. Yoga is a great way to improve your flexibility, strength, and balance, and promote relaxation and inner peace.
We look forward to welcoming you to our wellness center and helping you achieve your health and wellness goals.
Sign up for our Email Newsletter for Specials & Promotions