Dr Des Fernandes (Founder and Scientific Director of Environ) pioneered this innovative technology more than 20 years.
Environ's luxurious Ionzyme Active Vitamin Treatments are suitable for all skin types and uses a combination of pulsed galvanic current (iontophoresis) and low frequency sound waves (sonophoresis), to enhance the penetration of the essential ingredients by up to 40 times compared with manual application. Treatment with vitamins A and C works on the skin in the opposite way to peeling, laser resurfacing or dermabrasion (which makes skin thinner and artificial looking). Application of active vitamins makes the skin thicker, healthier and more beautiful.
Environ professional treatments give a younger looking, finer textured, firmer skin. They are designed to benefit all skin types - even sensitive. The process of promoting healthy cell renewal is particularly beneficial to photo-damaged, dehydrated, scarred and pigmented skins. There are also ultra-light peeling treatments for problem and thickened, photo-damaged skins. Specialised treatments for frown lines or for skin hydration are also available.
Customized Environ Face Treatment - $195
To begin, we will thoroughly assess your skin and recommend the most appropriate facial for you. Environ® Vitamin Facials produce noticeable effects after one treatment. This being said, a number of treatments may be required to achieve the best results for you. We can also recommend Environ® products to complement these treatments to get you the results you want more quickly.
Benefits of Environ Facial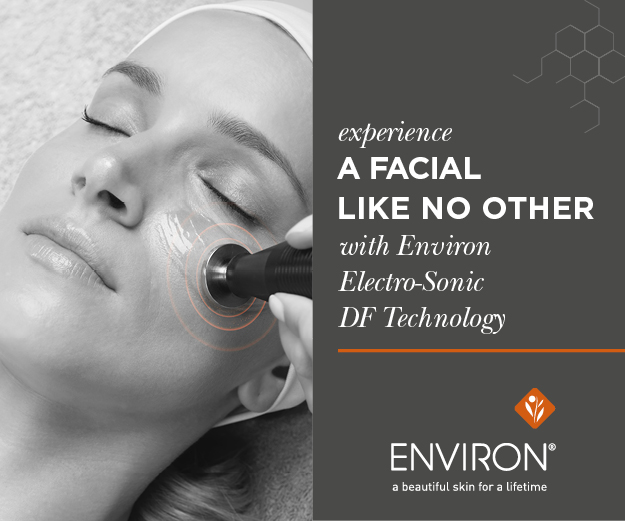 These revolutionary treatments uses the Environ Ionzyme machine to apply a combination of electrical pulses and sound waves to drive vital skin vitamins A, C, E and beta-carotene into the skin.
Penetration is increased by up to 40 times compared with simply massaging creams in by hand.
The treatment stimulates the maximum thickening of the skin, helps to improve collagen and elastin levels to soften lines and scars, reduces uneven skin tone and increases hydration.
Hydrates And Moisturise
Refine And Tighten The Skin
Soften Lines
Stimulate Collagen Production
Diminish Pigmentation
Even-Out Complexion
Creates an overall healthy glow to the skin
Soften Minor scarring
Electro-Sonic DF Technology
The pioneering Environ Ionzyme® DF Machine combines two sophisticated technologies – low-frequency Sonophoresis (sound waves) and pulsed Iontophoresis (electric current). Dual electro-sonic technology creates tiny pathways in the skin to assist in delivering more essential nutrients to where they are needed most, ensuring a beautiful, healthy-looking skin for life.
Environ skin care delivers scientifically-proven results by combining vitamins, antioxidants, peptides, and hyaluronic acid at effective doses. Having the correct essential nutrients in your skin care is step one, having a system for the micro-delivery of these vital nutrients deep into the skin is the key to a beautiful and healthy appearance.
The Cosmetic CIT Roller has a smooth action roller head embedded with durable 0.1mm stainless stell micro needles for use on the face and neck. Together with topical Environ products this instrument assists in enhancing the effectiveness of ingredients in skin care products, restores the look fo skin tightness, speeds up the reduction of uneven skin tone, refines skin texture and reduces the appearance of fine lines and scars.
This is the perfect introductory treatment for those who are considering microneedling.
CIT Vitamin Infusion Facial Including CIT Roller- $299
This treatment includes the use of a gel micro-exfoliation followed by professional cosmetic needling with a CIT roller combined with an effective Vitamin A serum and finished with a moisturizing and calming rubberized alginate masque. Clients are given the CIT roller used in the treatment (a $160 retail value) as a home-care tool following the treatment.
CIT Vitamin Infusion Facial Maintenance - $145
This is the identical treatment as the one listed above, with the exception that the client will return with their own CIT roller for use in the treatment. Our treatment team will inspect rollers for damage and sanitize with 70% alcohol before use in treatment.
---
Prices do not include GST and are subject to change. Effective March 28, 2021
Cancellation Policy:
Cancellations must be completed within 24 hours of your scheduled appointment time. Failure to cancel your appointment or cancellation within 24 hours of your service will result in a $50 charge or you will forfeit your deposit if one was collected at the time of booking.
Book an Appointment
Book your appointment online or give us a call!